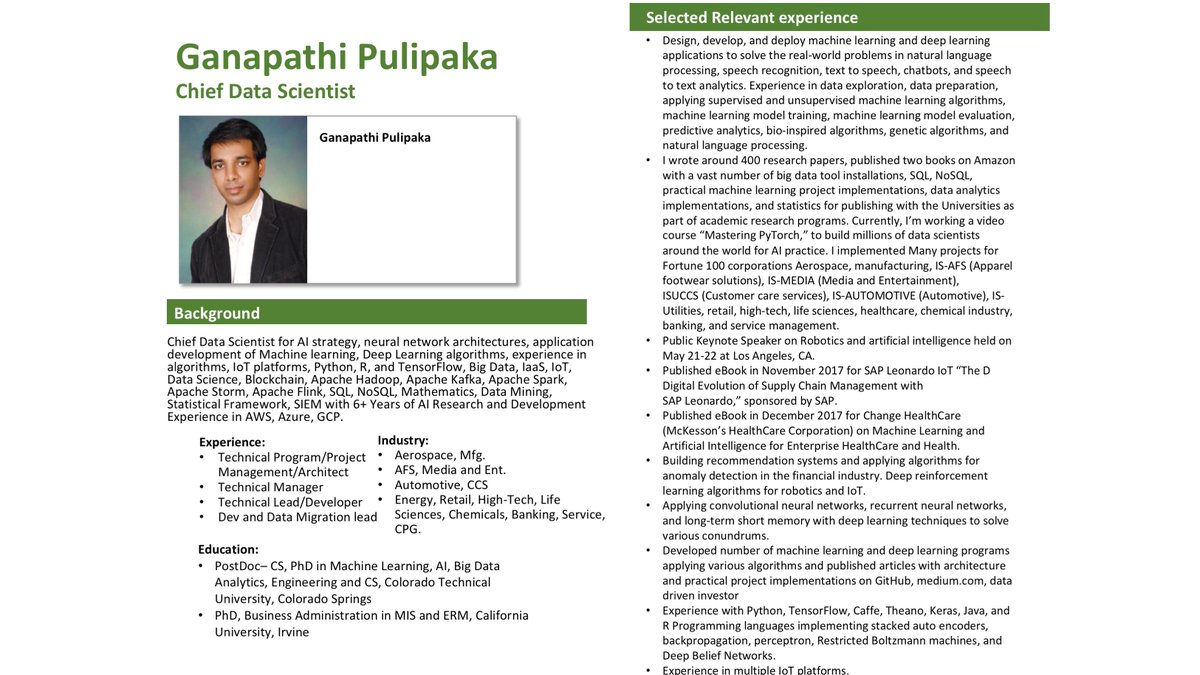 Ganapathi Pulipaka
Chief Data Scientist for AI strategy, neural network architectures, application development of Machine learning, Deep Learning algorithms, experience in applying algorithms, integrating IoT platforms, Python, PyTorch, R, JavaScript, Go Lang, and TensorFlow, Big Data, IaaS, IoT, Data Science, Blockchain, Apache Hadoop, Apache Kafka, Apache Spark, Apache Storm, Apache Flink, SQL, NoSQL, Mathematics, Data Mining, Statistical Framework, SIEM with 6+ Years of AI Research and Development Experience in AWS, Azure, and GCP.
Education: PostDoc– CS, PhD in Machine Learning, AI, Big Data Analytics, Engineering and CS, Colorado Technical University, Colorado Springs
PhD, Business Administration in Data Analytics, Management Information Systems and Enterprise Resource Management, California University, Irvine
Design, develop, and deploy machine learning and deep learning applications to solve the real-world problems in natural language processing, speech recognition, text to speech, chatbots, and speech to text analytics. Experience in data exploration, data preparation, applying supervised and unsupervised machine learning algorithms, machine learning model training, machine learning model evaluation, predictive analytics, bio-inspired algorithms, genetic algorithms, and natural language processing.
I wrote around 400 research papers, published two books as a bestselling author on Amazon "The Future of Data Science and Parallel Computing," "Big Data Appliances for In-Memory Computing: A Real-World Research Guide for Corporations to Tame and Wrangle Their Data," and with a vast number of big data tool installations, SQL, NoSQL, practical machine learning project implementations, data analytics implementations, applied mathematics and statistics for publishing with the Universities as part of academic research programs. Currently, I'm working a video course "Mastering PyTorch for Advanced Data Scientist," to build millions of data scientists around the world for AI practice. I implemented Many projects for Fortune 100 corporations Aerospace, manufacturing, IS-AFS (Apparel footwear solutions), IS-MEDIA (Media and Entertainment), ISUCCS (Customer care services), IS-AUTOMOTIVE (Automotive), IS-Utilities, retail, high-tech, life sciences, healthcare, chemical industry, banking, and service management. Public Keynote Speaker on Robotics and artificial intelligence held on May 21-22 at Los Angeles, CA.
Published eBook in November 2017 for SAP Leonardo IoT "The Digital Evolution of Supply Chain Management with SAP Leonardo," sponsored by SAP.
Published eBook in December 2017 for Change HealthCare (McKesson's HealthCare Corporation) on Machine Learning and Artificial Intelligence for Enterprise HealthCare and Health.
Building recommendation systems and applying algorithms for anomaly detection in the financial industry. Deep reinforcement learning algorithms for robotics and IoT. Applying convolutional neural networks, recurrent neural networks, and long-term short memory with deep learning techniques to solve various conundrums. Developed number of machine learning and deep learning programs applying various algorithms and published articles with architecture and practical project implementations on GitHub, medium.com, data driven investor Experience with Python, TensorFlow, Caffe, Theano, Keras, Java, and R Programming languages implementing stacked auto encoders, backpropagation, perceptron, Restricted Boltzmann machines, and Deep Belief Networks.
Experience in multiple IoT platforms.
Twitter: https://twitter.com/gp_pulipaka
Facebook: https://www.facebook.com/ganapathipulipaka
LinkedIn: https://www.linkedin.com/in/dr-ganapathi-pulipaka-56417a2